Bird-X Songbird Magnet Electronic Bird Caller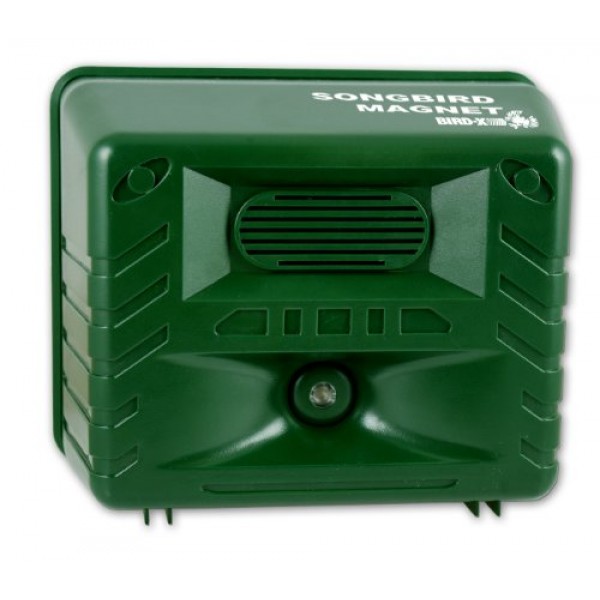 Bird-X Songbird Magnet Electronic Bird Caller
How It Works
The Songbird Magnet is an electronic bird attractant that brings desirable songbirds straight to your door. Digitally-recorded songs are played at their natural sound levels and intervals to attract favorite songbirds to perch nearby for magnificent site. Equipped with a light sensor and 2 main settings which are both pre-programmed and dual function, The Songbird Magnet is simplistic in use and maintenance.
Birds Attracted
The Songbird Magnet invites a number of songbirds including Purple Martins, Eastern Bluebirds, Baltimore Orioles, House Wrens, House Finches, American Goldfinches, and Indigo Buntings.
Where to Use
The Songbird Magnet is recommended for use throughout outdoor or semi-enclosed spaces anywhere songbirds are desired. This includes gardens, lawns, backyards, patios, balconies, windows, farmers markets, museums, community gardens, parks, outdoor seating areas, and more.
Installation
Installation is easy. Simply place the Songbird Magnet near the area of choice where songbirds can perch. When choosing to mount the device, it is important to keep the speaker facing outward toward the selected area. The unit is weather-resistant, but use caution in extreme conditions. All mounting hardware is included.
Electronic device attracts songbirds
Emits naturally recorded, digital sounds
Ideal for outdoor or semi-enclosed areas
Sounds themselves establish a pleasant ambiance
Programmable control with 2 songbird calls, volume knob, and functioning modes