Biodots - 100 Count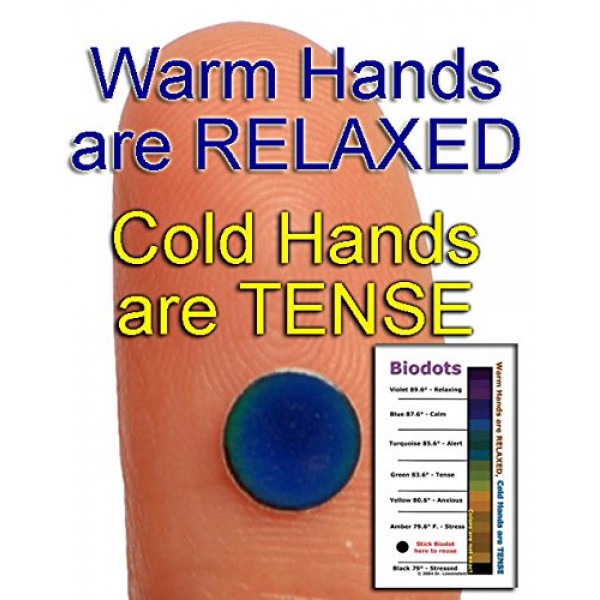 Small circles CHANGE COLORS as hand temperature changes. Great handout at fairs, lectures and groups.
Biodots CHANGES COLORS as temperature changes which is a test of stress level.
BLACK = Tense
AMBER = Stress
YELLOW = Anxious
GREEN = Tense
TURQUOISE = Alert
BLUE = Calm
VIOLET = Relaxed
Use adhesive back to stick the Biodot to tense areas. Inexpensive and unbreakable,
10 degree range from 79.6° F. to 89.6° F. Great handout. These have a glue or an adhesive back. Simply peel them off. You can stick them on skin, letterhead, business card, student ID, or any promotional or advertising item.
Body Temperature changes under Stress Under stress muscles tense and blood flow is restricted to the main body and shut down from the hands and feet.
Stress Level Rule - Warm Hands Relaxed, Cold Hands Tense.
Hand/foot temperature ranges over 40° degrees from a low of 60° degrees to as high as 99° degrees F. Changes of 5° degrees or more can take place in seconds.
The Biodot will return to black color within seconds. It can be used over and over again.
Great for classes on stress, massage clients, worker stress, childbirth classes, hypnotherapy, meditation, yoga, etc.
Packages of Biodot Instruction and Color interpretation cards for sale on Amazon. Packages of 100, 500 or 1,000 cards.
Here is what you get: A package of 100 stress sensing Biodots comes with ONE color interpretation card and ONE instruction sheet.
You hands must be slightly warm for any color change to show. The one negative comment below is from a person who never contacted us. Touch the biodot to your neck which is about 93 F and you will see it change color. So your finger must be 79 F or warmer to see any color change.
Stress Level Rule - Warm Hands Relaxed, Cold Hands Tense. Great for learning hand warming, quick stress reduction. An ideal tool for learning to transfer and generalize relaxation skills to real-life.
Biodots keep changing color as your skin temperature - stress changes. They can be used over and over for years.
Package of 100 Biodots - 2 sheets of 50 biodots each, 100 stress sensing Biodots comes with ONE color interpretation card and ONE instruction sheet. Color Change Interpretation Chart card. 10
degree range from 79.6° F. to 89.6° F. Perfect for Wellness, Health presentations, Health Fairs, Science Class, Conventions.
Instruction Sheet - How to use, use over and over again. Buy More Biodot Instruction Cards - amzn.com/B003NYTJ8E