Bamboo Accents Zen Garden Water Fountain Spout, Indoor/Outdoor, Ad...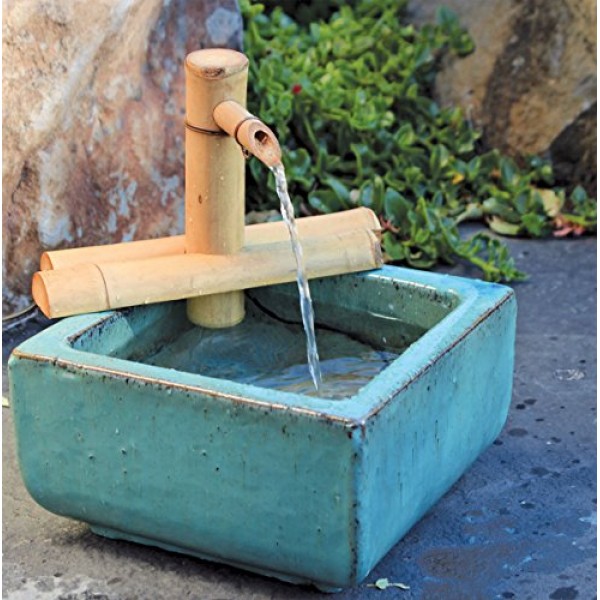 Bamboo Accents Zen Garden Water Fountain Spout, Indoor/Outdoor, Adjustable 7-Inch Half-Round Flat Base, Smooth Split-Resistant Bamboo (Container Not Included)
From crashing sea waves and rippling pond waters to cathartic downpours and babbling brooks, flowing water soothes the nerves and relaxes the soul. Now, allow it to flow through the natural grooves and cavities of one of Nature's smoothest materials - and the perfect source of your own personal Zen. (Note: Container not included)
Since 1998, Bamboo Accents has perfected the art of crafting bamboo fountains. We meticulously source our Tam Vong bamboo from Vietnam, where it's grown without pesticides or fertilizers - just warm sun, nourishing water, and invigorating air. This gives it unmatched strength, flexibility, and durability.
Each fountain you receive is a one-of-a-kind. From the Vietnamese farmer who grows the bamboo to the skilled artisans and carpenters who fashion each piece, each step in the process of making your fountain is done by hand. Then it's tested to ensure your fountain is stable and provides years of soothing water flow.
CREATE THE SOOTHING SOUNDS YOU WANT: Fountain support arms easily adjust up for louder splashes on an outdoor patio or down for softer soothing ones in an office or yoga room. Also add small stones or shells to further create your ideal environment.
CALMING SOUNDS WITHIN MINUTES: Complete kit includes submersible pump, tubing, and bamboo fountain that you can set up in as little as 5 minutes on the edge of a 6" to 15" diameter container. Perfectly sized for containers as shallow as 4" deep.
CUSTOMIZE THE LOOK: Our fountains don't come with a container, giving you the freedom to turn any vessel, like a beautiful pottery bowl, into your own beautiful fountain. Fashion a companion fountain for plants that need constant humidity.
ENJOY FOR YEARS TO COME: Each spout is handcrafted from sleek, supple Tam Vong bamboo, which is stronger than steel by weight! This means it resists splitting or cracking better than other bamboo. It also absorbs excess noise, leaving only the relaxing sounds you want.
COMES WITH ELECTRIC PUMP: USA-standard 110-Volt pump that's strong and quiet for its size. For European standard 220-Volt pumps, please purchase Amazon ASIN: B073SB7FPD.