Automatic Irrigation Kit, Self Watering System, with Elect...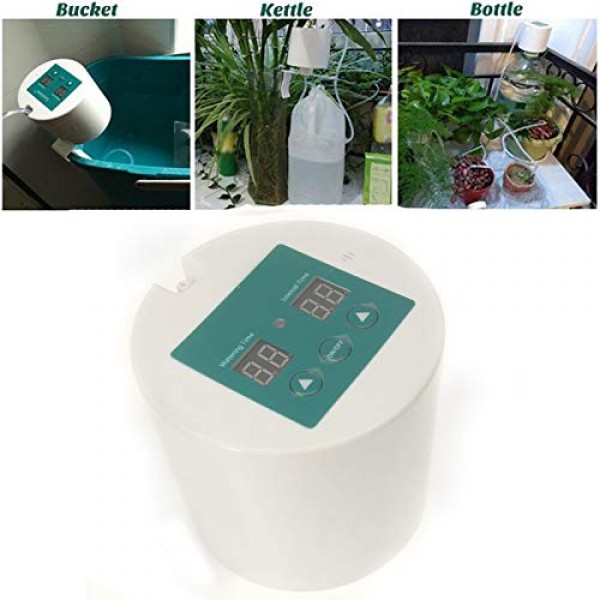 Cheapar Automatic Irrigation Kit, Self Watering System, with Electronic Water Timer, 10m Tube, Automatic Drip Watering System for Gardens, Balconies, Hanging Baskets, Indoor, Outdoor, Potted Plants
Specifications
Material: Plastic
Size: height 8.5cm ; diameter 9cm
Weight: 260g
Features
- Auto & Manual Watering / Fertilizing:
1. Setting the watering / fertilizing time and interval as the plants needed(please be sure you have turned the batteries ON/Off button on the pump bottom), then the system will automated watering the pots on time.
2. Watering / fertilizing immediately if you like with a single button of ON/Off on the controller panel, and the press will not influence the setted watering schedule.
- Low Power Detect & Protect: The indicator light on the control panel will turn red if low power, that means you should replace the batteries.
- Lack Water Detect & Protect: It will stop pumping automatically for safety and start intermittent beeping to inform you adding water, or you can relieve the beeping with the press of any key.
- Controller Functions: This Controller is designed for indoor use only, for example in grow tent, mini greenhouse, office or balcony. The controller is for automatic watering and fertilizing plants. The Controller must not be used for industrial purposes or in conjunction with chemicals, foodstuffs, flammable or explosive materials.
Simple Installation
1.Cut the tube into small pieces according to your pots spacing
2.Connect the tube with dropper(tee or 2-way pipe fitting)
3.Insert dirpper into the tube
4.Insert the pipe tube into the outlet
5.Insert the brass filter into the host 
6.Install 4pcs AAA batteries 
7.Power on the switch by click it to "ON"
8.Set the watering time and interval time
9.Intert the drippers into the soil
Package include
1x Controller
1x 10m Tube
10x Dripper
10x Tee
3x Cross
3x Two-way pipe fitting
3x End cap
1x Filter
1x Controller holder
Automatic Watering System Combine pump and timer in one plant watering system, exempt from mixed wire and other controller, Including kits for a whole drip irrigating system. Portable and easy to assemble.This automated drip irrigation kit has become extremely popular since it automatically waters your plants and flowers in a very efficient way. The water does not splash everywhere, and is only aimed towards the area needed.It's a good helper for your life!
Huge Time Saver Automatically waters your plants with a constant flow. Only need 30% of the water than traditional sprinklers to water the same plant by applying water directly to the roots. Increase the absorption, take care your plant better.
Worry-Free Watering lightweight design, easy to clamp on water containers with no fear of overturn. Powered by AAA batteries(This product doesn't include batteries), 4 pcs of 850mAH batteries can work about 60 days with one minutes watering at a time for every day. Don't worry for vacation leaving.
Safety No Leaking Accurate connection between tube, dripper connector, and dripper without any leaking after multiple tests, ensure the full water as you setted.