Anumed Int'l Inulin Prebiotic Fiber - 6 oz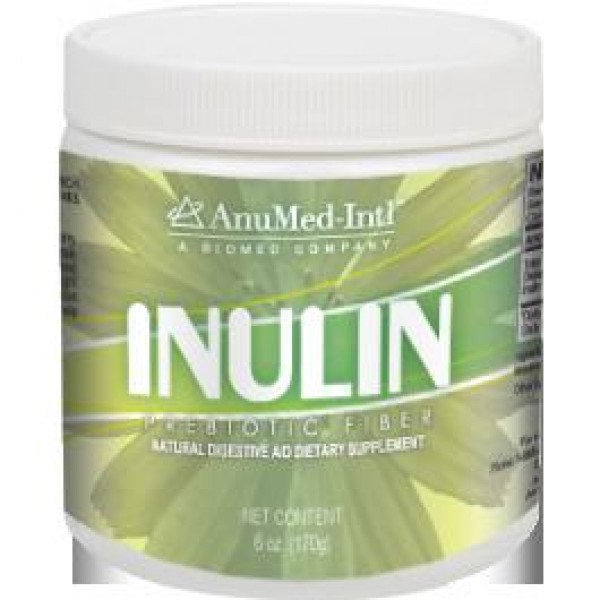 Inulin is a fiber supplement that is easily incorporated into many foods to improve taste, texture, and moisture while reducing sugars, fat, and flour; thus lowering the amount of calories consumed. Inulin is a natural soluble dietary fiber, which falls under the general class of carbohydrates called fructans, those polymers containing fructose. It's also naturally found in fruits and vegetables such as bananas, garlic, jicama, onions, Jerusalem artichokes, and chicory root. Inulin is a key ingredient used in Stevia International powdered products.
The Effective Fiber Supplement Needs
Fiber supplements are great to add to your intake, as it will boost the fiber in the diet. Here, taking ample quantity holds the key to obtain benefits for the human body. There are wide varieties of products available in the market to meet the fiber demand for the human body. Fiber obtained through supplements will be in the form of functional fibers and very commonly seen as inulin, oligofructose and psyllium. This functional fiber is generally extracted or isolated from plants. These supplements are seen available in the form of powders, wafers and oils in wide varieties of flavors.
Inulin is a popular product from the health supplement producer, AnuMed, because Inulin will work on a human body like a soluble dietary form of prebiotic fiber. It prevents constipation and is diabetic friendly too. AnuMed is aware of the functional fiber supplement necessity and its quantitative requirement for a human body. This is the best fiber supplement product to attract desired benefits in return successfully.
AnuMed's Inulin will act as a perfect agent to initiate the beneficial bacteria's activity within the gut. Bacteria considers this fiber supplement as a food and is great for the body digestion effective functioning. This product is the best option for the individuals who are into controlling their blood sugar level and intending to reduce their cholesterol. This fibe supplement can also be a good help for irregular bowels and effective digestion needs. This is a perfect soluble fiber to improve your mineral absorption, to improve effective digestion and to support the effective immune system all at once.
High Fiber Diets
Inulin is a soluable fiber with no calories so it is perfect for high fiber diets. Citrucel, Metemucil, Fibercon, and other fiber supplements can't compair.
Since Inulin is an all natural dietary fiber sumplement, it can be used with any diet.
Digestive supplements
Inulin is a great constipation fiber and digestion help can be achieved very quickly, as a digestive supplement inulin works as a good source of fiber.
Inulin Natural Fiber Benefits:
Prebiotic fiber
Zero Calorie
Improves mineral absorption
Supports a healthy immune system
Diabetic friendly
Supports bone strength
Ingredients:
Carbohydrate
Prebiotic fiber
Organic inulin
Zero Calorie
Instructions of Use:
Add to water, smoothies, yogurt or any favorite food or beverage. Gradually increase dosages up to daily recommended amount.
Item No AU3209