AlkaZone Antioxidant Water 24 OZ - 24 Pack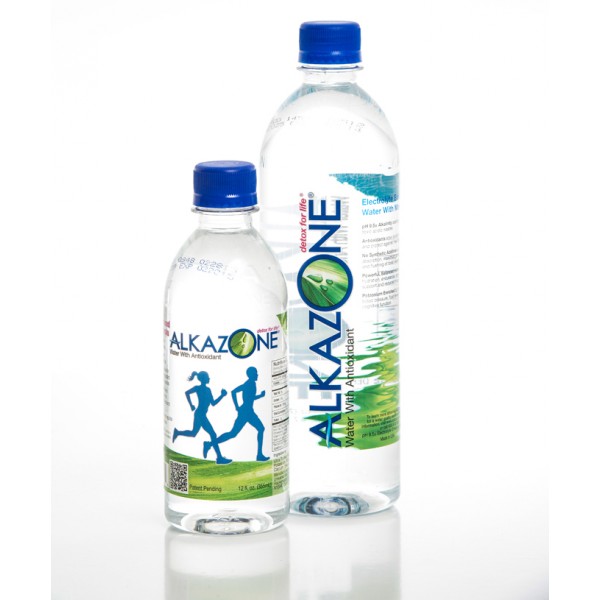 Antioxidant Water 24 OZ 24 Pack - ALKAZONE Antioxidant Water is deionized water that is crisp, clean and smooth to the taste. Alkazone Antioxidant water is enhanced with essential minerals such as potassium, calcium, magnesium and selenium. This creates a healthy 9.5 pH(±) balanced antioxidant water that helps restore the body and adds support for the immune system.
Benefits of ALKAZONE® Antioxidant Water include:
Antioxidant – which slows oxidation, aging and protects against free radicals which are harmful to the human body.
Electrolytes – for optimal hydration and endurance.
Sodium Free, Sugar Free, No added colors, No Calories and No Carbs.
Potassium Enriched – which helps to regulate blood pressure, fluid levels and cognitive function.
For over 15 years, ALKAZONE® has been a valued asset to the health and wellness industry. Our products are used by chiropractors, acupuncturists, naturopaths and health food stores. We are now making our mineral enhanced water, energized with our antioxidant formula, available to consumers who desire a smarter and healthier lifestyle.
What is pH?
The symbol pH stands for the "power of hydrogen" and it refers to the balance of "acidity" and "alkalinity". On the pH scale, pH 7 is considered neutral. If the pH is less than 7, it is acidic. If it is greater than 7, it is alkaline. The human body is properly balanced when the pH of our blood and fluids remain approximately 7.4. In other words, proper balance is achieved when the fluids are slightly alkaline.
Alkaline Water vs. Acidic Water
Most drinking water today is more acidic than neutral. For a truly functioning healthy system, the body requires more alkaline water. Pure distilled water ranks an even 7 on the pH scale. Anything above 7 is alkaline, thus being better than acidic water. To make the most of alkaline water, it is recommended that the water pH level be at least 9.5 (and as high as 11.5 to 12.5 in some cases of severe health conditions, including extreme obesity).
When drinking acidic beverages, the body is forced to draw on its own alkaline to neutralize the acid. To do this the body draws the alkaline minerals it needs from its bones and cells and thus damages itself. Alkazone's higher pH water level provides these minerals and helps wash away acids and wastes. This helps the whole body stay free of contaminants like metal ions, lead, cadmium and mercury, which when taken in excess, can cause serious health issues.
Item No ALKAH2O24