African Marigold Seeds Crackerjack Mix - Bulk 1 Ounce Packet - Ove...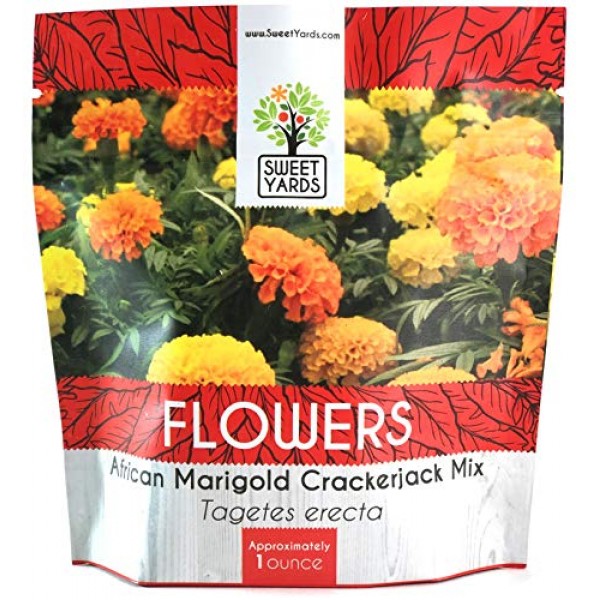 African Marigold Seeds Crackerjack Mix - Bulk 1 Ounce Packet - Over 10,000 Seeds - Huge Orange and Yellow Blooms
African Marigolds Crackerjack Mix -Tagetes erecta- Great for Vegetable Gardens!
Some of the biggest blooms of all the marigolds, reaching 4 inches across on large 24 to 30 inch tall plants. These yellow and orange blooms reach their peak in the fall when they are widely used for Halloween and Dia De Los Muertos celebrations.
Who says quality and quantity don't mix!?
We want to give you the biggest bloom for your gardening buck, that's why we put over 1 full ounce of seeds in our packets. That's more than 10 times the amount you'll get in a store-bought packet! That's also why we only sell the freshest seeds available. Each packet is filled with our continuously rotating stock of wildflower seed, ensuring that the packet you purchase holds fresh seeds ready to plant for the current growing season.
GUARANTEED TO GROW
We're so confident that you'll have success with our seeds that we guarantee they will germinate, or we'll give you a full refund within 30 days of purchase.
EXTRA LARGE PACKET contains over 1 full ounce of pure live seeds (10,000+ seeds!) - Enough to cover 125 square feet.
THE FRESHEST SEEDS available lead to high germination rates, making your gardening easy, successful, and fun!
PREMIUM PACKAGING designed for optimal seed storage, with full planting instructions and reusable zipper - Great for gift giving!
GUARANTEED TO GROW - We guarantee our seeds will germinate or your money back! No questions asked within 30 days.
HEIRLOOM VARIETY with large and fragrant blooms will bring beautiful color and beneficial insects to your garden!