Advanced Clinicals Coconut Oil Cream. Spa size 16oz Moisturizing C...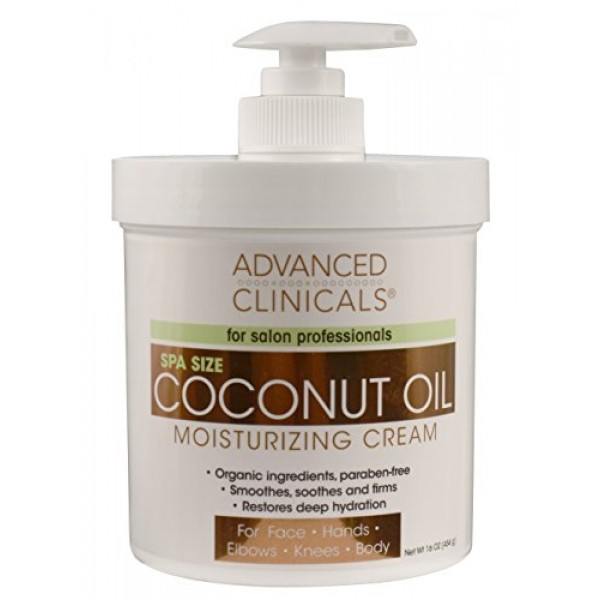 Spa Size 16oz anti-aging coconut oil cream will last you months! Highly nourishing, luxurious formula restores moisture to dry, dull skin. Delicious smelling cream is concentrated with pure Coconut Oil and Organic Lavender Extract for immediate hydration and a healthy, glowing complexion.This multi-functional cream is great for all skin types- sensitive skin, oily skin, or normal. Customers have used our coconut oil as a facial cleanser! We guarantee you'll love this rich cream or your money back!
SPA SIZE COCONUT OIL MOISTURIZING CREAM- Organic ingredients super emollient not greasy or sticky. Anti-Aging hydrating coconut oil restores deep hydration to face, hands, neck, decollete, elbows, knees, body, cuticles. Coconut Oil Cream is great for dry skin, dry hands, and sensitive skin. The great fragrance will make you feel like you are vacationing on a beach.
NATURAL and ORGANIC INGREDIENTS: Organic Lavender Extract, and Chamomile. Natural Glycerin and Aloe Vera provide immediate hydration for a healthy, glowing complexion. Exfoliate dry and dull skin.
COCONUT OIL BENEFITS: Fractioned Coconut Oil has proven to improve dry skin and prevent hair damage. Coconut oil for hair has shown to stimulate hair growth by deeply penetrating hair follicles. Studies have shown coconut oil to be a natural sunscreen.
GENTLE FORMULA 3 in 1 TREATMENT: Great as body moisturizer, anti-aging facial cream, hair conditioner. Aloe Vera soothes dry skin. Eliminate dry hands with ultimate hydrating formula from Advanced Clinicals.
Paraben-free. Trusted formula. Manufactured in the USA. Not tested on animals. 100% Satisfaction Guaranteed.