ACKE-Grow-Light-Plant-Light Sunlike Gooseneck Growing Lamps Dual H...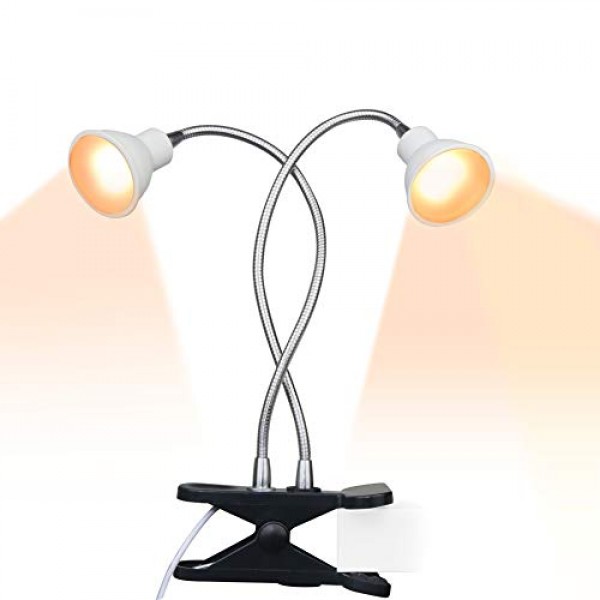 ACKE-Grow-Light-Plant-Light Sunlike Gooseneck Growing Lamps Dual Head with Clamp for Indoor Plants...
What's our concept of this mini gooseneck plant light?
ACKE grow light have been in led grow light industry more than 10 years.
We launch original brand new grow light for indoor horticulture each year.
This mini gooseneck plant light is designed to plants for bedroom, living room or office.
As we know, photosynthesis is process used by plants to covert light into chemical energy
That can later be released to fuel the plants' activities.
When plants do not receive enough sunlight, your plants might become leggy and weak.
If your home or office are lack of sunlight, you might get a artificial lighting for your houseplants.
However, the pinky light might be annoying. That's our concept of designing a grow light mimic sunlight for houseplants.
Where is the gooseneck grow light would be used to?
Potted plant or bonsai growing at home or office
Small herb growing indoors
Seedling or germination of various houseplant
Plant stand or grow tent
Feature of this mini plant light:
Sunlike full spectrum wavelength mimic nature sunlight, ideal for growing plants at home.
360° flexible free adjustable gooseneck enable adjust projection angle and distance to the plants.
Durable and big angle clip allowing for 2 inches thickness board or table edge.
Parameters:
Input: AC100-240V
Consumed power: 12W
Color: warm white
Coverage: 1*1ft
Max clip distance:2in
Suggested turning on:10-16h
Consumed power: 12 watts
Nature light full spectrum:Mimicked nature sunlight providing wide wavelength 380-780m for indoor plants' growing during cold winter,spring or the place are lack of sunlight.It's mini plant light but powerful PAR value,it is suitable to all stage of growth of houseplants.
Soft Light: Frosted diffuser output yellowish light that is more even and soft.Do not feel dazzling again even grow plants at sitting room.It is not just a horticultural lighting for indoor plants but also a warm desk lamp for you.
Plug and play: Installation free,just clamp this gooseneck plant light on amp it on the table,shelf or plant stand,then plug in and switch on.
Widely application:This grow light is really compact,the flexible hose with growing lamp heads in so that it could project to your plants at any directions.It could be use to your indoor horticulture,install at grow tent,plant stand,vertical gardening,wall gardening.
Save money:The consumed power is 12 Watts compare to 25W T5 grow light.Suggested turning the grow light on 10-16 hours,no worry your pocket.