Eyelash Lash Hair Growth Serum - BEST SELLER for Longer Eyelashes ...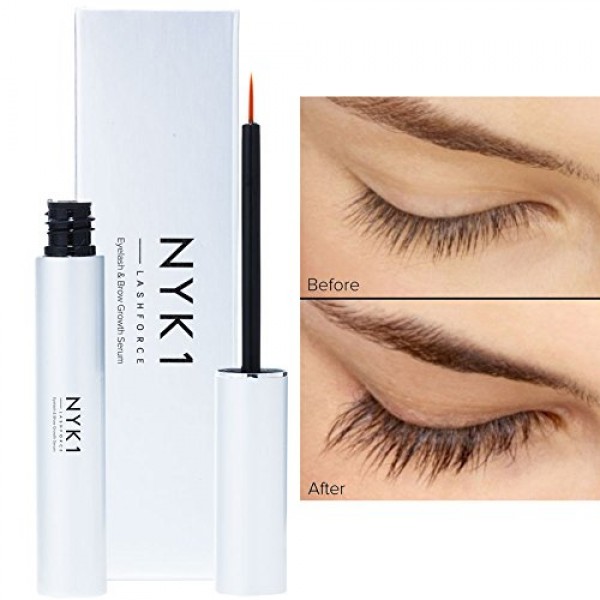 Eyelash Lash Hair Growth Serum - (8ml) BEST SELLER for Longer Eyelashes and Eyebrows Enhancer, Babe Eye Lash Force Boost Hair Treatment Pure Organic Oil Volume Lashs Brows Vegan Cruelty Free Lashes
NYK1 Lash Force - Rapid Lash and Brow Growth Serum
Our NYK1 Lash Force is an innovative, concentrated 3 in 1 eyelash & brow serum that combines specific purified ingredients that regenerate, rebuild and activate growth in both length and thickness to protect the structure of each follicle.
Application is ever so easy and only takes a couple of seconds once each day.
"I would recommend this to anyone with thin or short lashes! xx" - Amazon Reviewer
Let thin, short lashes be a thing of the past. Improve the appearance of your natural eyelashes and brows with a serum that allows you the freedom not to have to fake it anymore. Gorgeous, powerful, striking and healthy-looking natural lashes are here!
Ever so easy to apply; in just a matter of seconds. Apply only once a day on clean skin just like liquid eyeliner to the base of the lashes. Lash Force Growth Serum is a thin, clear consistency that is totally unnoticeable. Safe for contact lens users.
? Dermatologically & Ophthalmologist tested ?
? Increased Strength to prevent damage and loss so that each hair follicle stays thicker for longer ?
? You will wish you knew about this sooner! ?

Tried, Tested & Perfected!
Get back that Natural Look with Longer and Fuller Lashes and Brows
EXTRA Fill 8ml Size

★ #1 AMAZON BEST SELLING - THE AWARD WINNING EYELASH DROPS GROWTH FORMULA - Please be patient with the serum. Advanced lash and eyebrow growth will be highly visible within 6-8 weeks. This growing boost serum really does work, and the results are well worth the wait! Experience amazing rapid lash growth from a trusted British Brand. Our grand ultra enhancing serum has been tried, tested and perfected. Much more effective than cold pressed castrol castor oil alternatives
★ EXPERIENCE 3x LASH GROWTH - NYK1 Lash Serum conditioner works differently to other accelerator beauty serums out there. Rather than conditioning Lashes and Brows, it clears and cleans the follicles of blockages whilst stimulating blood flow. More nutrients and oxygen get to the roots, maximizing the length and strength of any lash or brow to grow long and healthy. Failure to apply every day will limit nutrients and break the growth cycle resulting in poor results
★ APPLY TWICE PER DAY LIKE LIQUID EYELINER - Roots must be drenched, but not dripping in NYK1 Lash Force twice a day. Makeup can be applied immediately after. CONSISTENT morning AND night application is key to great results. Used correctly this Serum will not fail. See lengthening results in just 3 weeks. By 6 to 8 weeks your Lashes will be thicker, darker, fuller and up to 2x longer. Full Instruction leaflet included. 8ml lasts over 3months using twice per day.
★ SAFE TO USE WITHOUT HARSH CHEMICALS - and will NOT change eye colour like other brand's products. No harsh chemicals like glaucoma medicine, careprost and bimatoprost. Perfectly safe for contact lens users and will not alter colour of eyes like the products of some other brands. Kit Cosmetics Dermatologically and Ophthalmologist tested. Ridiculous growth that is further amplified when applying mascara
★ UNBELIEVABLY LONGER NATURAL LASHES AND EYEBROWS BOOSTER - This product is also amazing if you want thicker and darker brows, especially if you have a bald spot and want to fill it back in with your own natural hair growth instead of having to pencil in specific blanc gaps. Especially good at restoring, to revitalash Natural Lashes. Great after ceasing to use Lash Extensions - rapidlash growth back in a matter of weeks