Vega One All-in-One Shake, French Vanilla, Large Tub, 20 Servings,...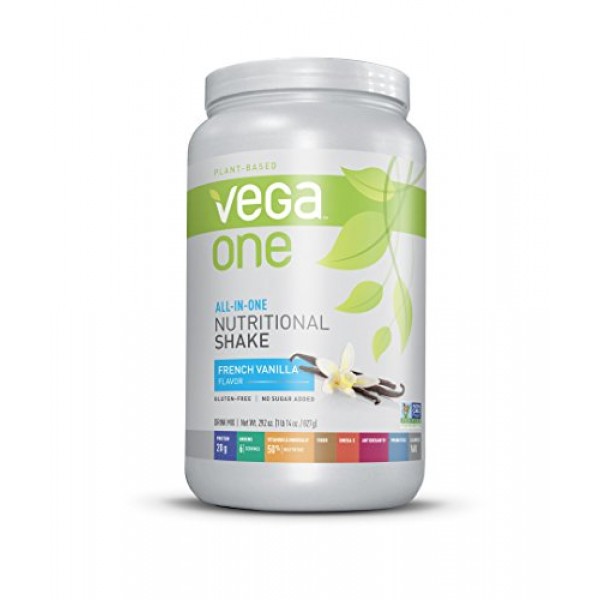 Vega One Nutritional Shake | French Vanilla 29.2 oz
We put the best in so you get the best out. Made from whole food, non-GMO ingredients, Vega One All-in-One Nutritional Shake gives you everything you need—all in one delicious scoop.

An effortless way to follow through on"New You" resolutions. Reduce the likelihood of falling off track from your goals, when you maintain a daily foundation of clean, plant-based foods. Vega One can be used to maintain your healthy eating resolutions by adding nutrients your body really craves, without compromising taste.

High in protein for maintaining lean muscle, made with 6 servings of nutrient dense greens, and 50% vitamin and mineral intake from whole food ingredients, Vega One is unlike any other nutritional shake. Crush your cravings and stick to your goals with minimally processed, whole food ingredients, made without dairy, gluten, soy, and no added sugar. An on-the-go way to fuel your busy day, without compromise.
Only 170 calories per serving with no sugar added, Vega One is low-glycemic, Non-GMO Project verified, gluten-free, and vegan certified and made without dairy or soy ingredients.
Why plant-based?

• For your health. Eat your veggies! Compared to the average North American diet, plant-based diets are rich in everything you've been told to eat more of: fiber from fruits and vegetables, and healthy fats from whole grains and nuts—while also low in the saturated fat and cholesterol found in meat and dairy.

• Eating more plant-based food reduces the likelihood of many chronic diseases, including high cholesterol, hypertension1 and type 2 diabetes.

• Worried about your waistline? Those who stick to a plant-based diet tend to have lower body weights and body mass indexes (BMIs).

• Go plant-based for the planet's health - simply put, swapping out some animal protein staples for plant-based beans, nuts, seeds and whole grains can have huge impact on your carbon footprint. While eating locally and seasonally is important, incorporating more plant-based foods into your diet has an even greater environmental impact.

• Making it work: add, don't subtract. Remember, plant-based eating falls on a spectrum. You don't have to do a dietary-180 today to see benefits. Start small by adding just one new plant-based food or meal – try a new non-dairy milk alternative, grab a fruit or vegetable you've never tried, or think about how you can spice up a plain block of organic tofu. Small changes lead to the biggest results.Easy plant-based meals. For recipe inspiration, visit the Vega Recipe Centre.
Key Benefits:
One serving of Vega One All-In-One Nutritional Shake gives you 20 grams of complete, multisource, plant-based protein and six servings of greens. You're covered with 50% daily intake of food-based vitamins and minerals plus fiber, Omega-3s, antioxidants, and probiotics. Vega One is low-glycemic, Non-GMO Project verified, gluten-free, and certified vegan.

Enjoy easy-to-make Vega One in French Vanilla, Chocolate, Berry, Vanilla Chai, or Natural flavors. MyVega.com
Whole Food Ingredients in Every Serving:
Nutritional Facts and Ingredients:
view larger





Pea protein, whole flaxseed (micro-milled), cocoa powder, organic acacia gum (naturally occuring fiber), hemp protein, Vega SaviSeed (sacha inchi) protein, organic gelatinized maca root, organic broccoli, organic spirulina, organic kale, organic marine algae calcium, fruit & vegetable blend (spinach, broccoli, carrot, beet, tomato, apple, cranberry, orange, blueberry and/or bilberry, strawberry, shiitake mushroom), chlorella vulgaris (cracked whole cell), papaya extract, probiotics (bacillus coagulans [provides 1 billion cfu/serving]), antioxidant fruit blend (grape seed, extract, organic pomegranate, açai, mangosteen, organic goji, organic maqui), Contains 2 percent or less of: beet root powder (for color) natural chocolate flavor, natural vanilla flavor, natural caramel flavor, natural hazelnut flavor, stevia extract, citric acid
How to Use:
Enjoy Vega one shaken with water, juice or a non-dairy beverage, or blend in a smoothie.
Vega Protein: What's the Difference?
Active Lifestyle

Performance

Vega Protein Smoothie

Vega Protein & Greens

Vega One Nutritional Shake

Vega Sport Performance Protein

Why You'll Love It
A delicious on-the-go snack, or part of a healthy breakfast.
An easy, delicious way to fit protein and greens in your busy day.
All-in-one shake to meet your daily nutrition needs.
Helps improve strength, build and repair muscle and reduce recovery time.
Protein
15 g
20 g
20 g
25 g
Greens
2 servings
2 servings
6 servings
Calories
80 calories
110 calories
160 calories
130 calories
More Features
• Made with non-GMO ingredients
• Made with non-GMO ingredients
• 50% DV vitamins & minerals
• 5,000 mg BCAAs
• Papaya extract, which contains natural digestive enzymes
• Papaya extract, which contains natural digestive enzymes
• 6 g Fiber
• 5,000 mg glutamine
• Family-friendly
• 1.5 g Omega-3's
• Digestive enzymes
• Antioxidants
• Probiotics (1 billion CFU)
• 1,000 mg gelatinized maca
Made Without
no added sugar, dairy or soy ingredients
no added sugar, dairy or soy ingredients
no added sugar, dairy or soy ingredients
no added sugar, dairy or soy ingredients
Badges of Honor

Flavors

Size
9.3 oz (264 g)
21.7 oz (614 g)
30 oz (827 g)
29.2 oz (829 g)
Servings
12
26
22
25
New and improved, all-in-one meal made from real, whole food ingredients, only 160 calories
20 servings per container, 41g per serving
50% daily intake of vitamins and minerals made from fruits and veggies
25% daily fiber, 1.5 grams omega-3s, probiotics, and antioxidants
Non-GMO project verified, vegan certified, low-glycemic, gluten-free, and made without dairy or soy ingredients