9w TCP SpringLamp 48909 Soft P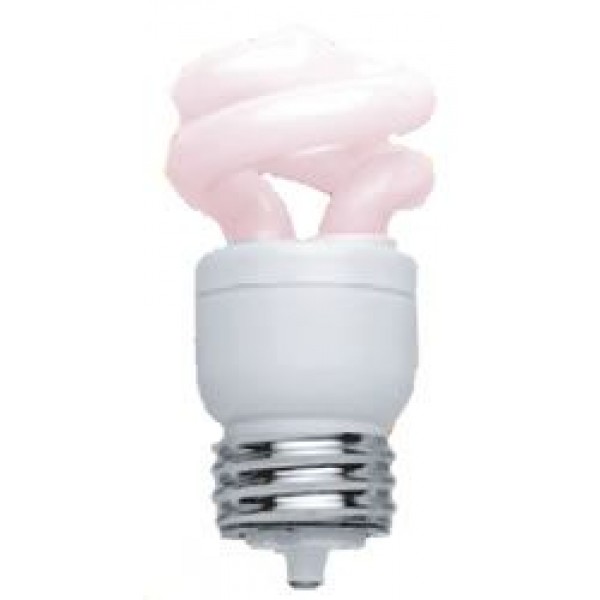 A soft pink color can enhance the appearance of objects in interior rooms, including food. These bulbs are often used in restaurants and rest rooms. At just 3.6 inches long this light bulb is smaller than a conventional incandescent light bulb. Other enhancements include quickstart technology so the bulb comes to full brightness faster, self-balancing amalgam technology to allow the bulb to generate less heat and offer consistent performance in a greater range of applications, and lead-free glass which will help provide better lumen maintenance over the bulb's life. Of course, the energy savings is important too. This 9 watt bulb will deliver 550 lumens of light, making it a suitable replacement for a 35 to 40 watt incandescent light.
Input Power: 120 volts AC, 60 Hz, 0.16 amps, 9 watts
Light Output: 550 Lumens
Dimensions: 3.5" Long, 1.9" Wide
Rated Life: 15,000 hours
Color: Soft Pink
Minimum Start Temperature: -20 degrees Fahrenheit
Certifications: UL, CUL
Manufacturer Warranty: 2 Years
Note: This bulb may have reduced rated life in enclosed fixtures or emergency exit lights, and is not suitable in outdoor locations where it would be exposed to the elements, or in conjunction with dimmers, photocells, or electronic timers. This lamp contains mercury. Please recycle at the end of its life.
Item No EFI-1100.8922