10 Lbs Water Absorbing Crystal Polymer Soil Moist + Humic Acid Or...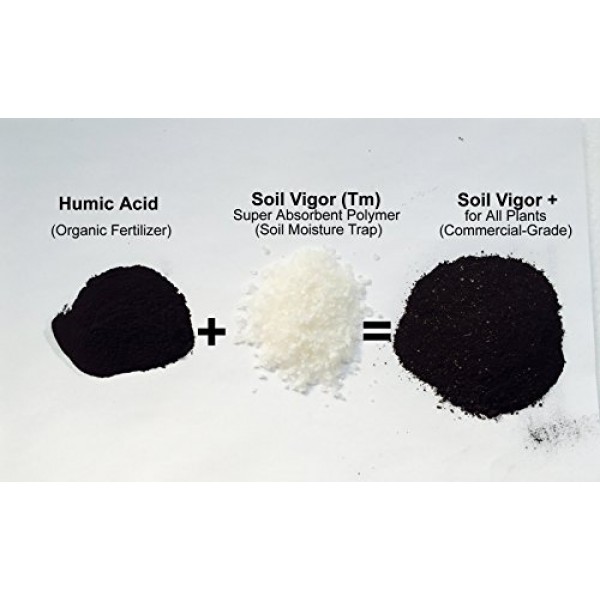 SOIL VIGOR TM+ HUMIC ACID (Organic) Application Rate: Potted Plants-1/2 Tbsp.-6" to 8"Pot; 1 Tbsp.-10"Pot; 2 Tbsp. - 5 gallon pot. Vegetable, Flower, Garden Beds: Mix with soil-8 tbsp Soil Vigor per 60 lbs soil. Grass Lawns (laying sod and seeding): Mix with soil, Tamp down the soil mixture level into the ground : 1 lb per 100 square feet.2 oz. / 40 lbs of top soil 2.5 oz./ Cubic Feet of Top Soil,10 lbs Soil Vigor per 1000 square feet.430 lbs.1acre. Trees & Shrubs: Mix Soil Vigor with soil_ 4 oz. per 60 lbs of soil.4lbs. Per cubic yard of panting media. Soil Vigor + Humic Acid Organic also 100% GMO free, Soil Vigor is a Potassium based Super Absorbent Polymer(SAP) that does not cause soil clumping , The best growing conditions are moist fluffy nutrient rich soil. SAP has been used by home and commercial vegetable gardeners worldwide since early 1970's. META Title: Super Absorbent Polymer soil moist + Humic Acid, nature's fertilizer
Soil Vigor (Tm) Super Absorbent Polymer, Soil Moisture Trap + Humic Acid (Organic Fertilizer) for All Plants, Trees, Shrubs, Vegetable, Flower Gardens, and Lawns of All Sizes. Commercial- Grade
Non-Toxic - Will not harm your insects or the pets which eat the insects.Prevents drowning of feeder insects
Faster germination rates! Reduces soil clumping for better in soil oxygen! Grow and maintain healthy plants!
Reduce watering, save money and labor! Save on fertilizing cost by reducing runoff!
Reusable for up to 7 years in the ground. 100% biodegradable, Safe, Non toxic.