SSEYL AR63C Vibration Meter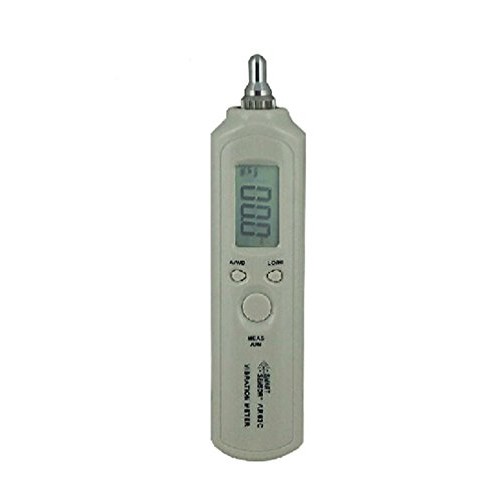 We need about 3 business days to prepare it for you and will send it to you by FedEx, UPS or DHL service. It will take about 6 days for you to get it.
Features
Vibration meter(also called also called vibration severity) uses Piezoelectric Acceleration Transducer transfer the vibration signal in to electrical signal, analyze the input signals, and show the Acceleration, speed, shift of the vibration.It is widely used in the lines of Power, petrochemical, machinery manufacturing, metallurgy, vehicles, etc.
SPECIFICATION
*Vibration Pickup:Piezoelectric Ceramic Accelerometer(shear-type)
*Acceleration:0.1~199.9m/s2
*Velocity:0.1~199.9m/s
*Displacement:0.001~1.999mm
*Acceleration Frequency Range
*10HZ~1KHZ(LO)
*1KHZ~15KHZ(HI)
*Velocity Frequency Range:10HZ~1KHZ
*Displacement Frequency Range:10HZ~1KHZ
*Accuracy:±5%H±2digits
*Singnal Output:AC output
*Auto Switch Range: √
*Backlight:√
*Auto Power off:√
*PACKING INFORMATION
*Power:AAA*2 battery
*Product Net Weight:60g
*Product Size:150*40*20mm
*Packing:Gift box
*Standard Quantity Per Carton:40PCS
*Standard Carton Size:52*40*49cm
*Standard Carton Gross Weight:15KG
Product Net Weight:60g
Product Size:150*40*20mm