4 Pieces Crafting Bag for Decorating Grocery Canvas Bag White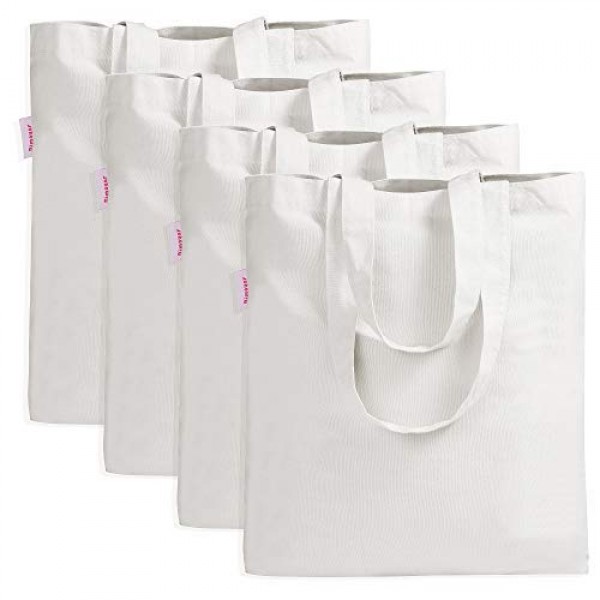 4 Pieces Crafting Bag for Decorating Grocery Canvas Bag White
The 4packs reusable bags' size are all 15.7"(Length)x15.7"(Height)x3.3"(Bottom gusset) with 13inches hand drop,which is a nice size.
You can use this fashion bags held a gallon of water, bag of carrots, cucumbers, pretzels and papers or books.
The shoulder bag is made of 100% cotton that is a high quality material and it is very durable,otherwise,it is washable and can be washed in washing machine.
The ladies handbags has one single compartment that is vary large in size and it has strong handles and the stitching seems  extremely strong and reinforced
which will keep the bag from ripping or starting to fray at the seams,so it can handle some weight.
This would be really good for carrying groceries home from the store instead of using a plastic bag and it is handy for carrying anything around.
This reusable grocery bags is natural color,so you can use puffy paint or fabric markers to design it anyway you like and this  tote bags bulk is suitable for anyone at any age.
This storage bags not only can be a reusable shopping bags,but also can be laundry bag,tote bags for school teens,beach bag and  customized tote bags ,book tote bag,boat
and tote bag to decorate,birthday goodie bags or Christmas gifts,etc.
4 packs of near-white(Kind of off-white) plain canvas bag,they are not bright white bags but more of a khaki color.Good size. Feels sturdy so hopefully they will last a good while.You can buy fabric dye pens to draw on them and that worked pretty well. Neutral enough color to work well and not distort the colors. Just make sure to use an insert to avoid bleeding through while painting/drawing.Can be use with my cricut machine. Htv and glitter htv adhere very well.
Wondering what to give for a craft project? These bags with the idea of decorating it themselves with craft paint.Great Quality, washed up nice, will be perfect for embroidery!Perfect to paint!Great tote for applying HTV to for personalized gifts! These bags are the ideal tote size. They can fit alot of stuff inside them and are very well made. You can use acrilyc paint and brushes for painting.It's just thin enough to paint on top of it!They are good size to held fabric paint well.
Great for projects and gifts!Perfect for a mother's day project!Perfect for DIY projects!Perfect for craft for Christmas gifts!Perfect for birthday party craft!Those off white canvas bags are erfect for crafting and sublimation images.Great for DIY----overall really really cute and way better for DIY or crafting in terms of quality, hobby store totes are never as nice as this!A great party activity! You can use acrylic paint and the kids had a blast.Good size and good for fabric painting.
Wondering what to havefor your daycare?Those canvas bags are sturdy,Lightweight, durable, and roomy.THE SIZE: it just fit for 3 medium size walmart-pizza.They are the perfect size to carry a project in. Great for light shopping also.They are very thick and sturdy canvas. Great material for embroidering too.You could use these bags every single day to carry my lunch and various things in them to work,also use them for groceries.they are canvas like material that is durable and eco friendly.
Made with a thick quality canvas as are the straps.They would make great shopping bags.You can use these canvas bags for groceries. They are high quality with thick, durable material,put them through the washer and dryer and they are holding up really well. The bags are a good size and hold a decent amount of items. The gusset in the bottom is a bit narrow but since its cloth it conforms to whatever put in it.They are perfect for carrying things of all types.