100 Wood Rounds and 100 Key Rings Wooden Circle Discs with Holes a...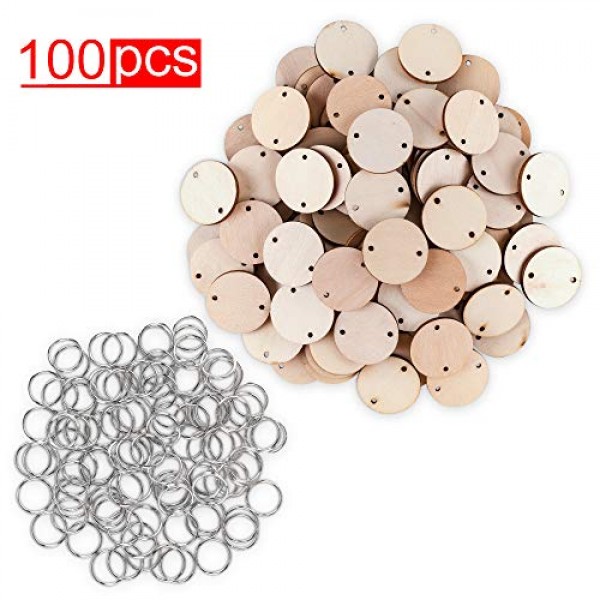 100 Wood Rounds and 100 Key Rings Wooden Circle Discs with Holes and Ring Clips for Birthday Board Tags, Homemade DIY Gifts, Arts & Crafts (1" Inch)
Clean cut wood rounds that include mini key rings for easy linking. Perfect for a family birthday board to hang up on the wall or to give as a gift!
Each wood round disc has 2 symmetrical holes and match with included rings to link them together. Suitable for a variety of arts and crafts uses at home, in the classroom, or even as event decorations for weddings, birthdays, baby showers, and more.
The unfinished round clean and smooth wood cutout chips make it easy for writing surface messages or for labeling. Convenience for quick painting, staining, or markers for any theme and pattern. Makes perfect gift tag for any special occasion.
Turn these wood crafts into useful birthday gift decorations, thank you gift tags, for wine gift baskets, wedding gift tags and even bridal shower gift ideas by adding a twine or ribbon. Add that special and thoughtful decorative touch with embellishments to compliment themes in Fall, Christmas, Halloween, and Thanksgiving decorations.
Wood cutout circles each measuring at 1.2" inches (or 3cm) across. Key rings measure 0.5" inch (or 1.5cm). Each order has a package of 100 wood rounds and 100 silver rings. Each side is already smooth for convenience for easy painting or writing.