ORLANE PARIS B21 Extraordinaire Youth Reset, 1 oz.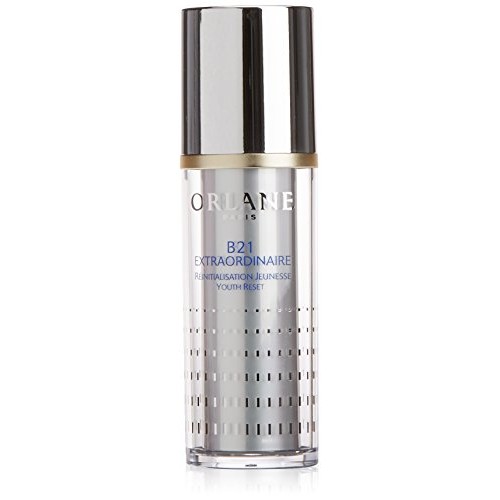 ORLANE PARIS B21 Extraordinaire Youth Reset, 1 oz.
A global action on all signs of aging. Wrinkles visibly fade, expression lines appear diminished, skin becomes radiant, dark spots fade, skin is firmed and hydrated within a voluptuously addictive texture. This revolutionary formula acts on the source of aging deep within the cell. For the first time, an exclusive complex resets cells. It targets all the factors that cause problems within the cell and sets the clock back. Cells regain all their energy and function as they did in youth; the skin can benefit fully from the essential elements provided to construct its collagen and its body. The action of 21 essential amino acids extracted from pale iris stem cells, obtained using biotechnology techniques, is optimized. They are the building blocks of every protein, helping to build younger, denser skin. Whatever your age, this treatment will provide you with fresh, youthful looking skin. Because of its unique texture, it can be applied by itself. Because it resets the clock for your cells, B21 Extraordinaire, when applied together with a serum or a cream, boosts their efficiency. The skin is glowing and even more beautiful 97%. The skin is firmer, wrinkles are reduced 97%. The skin is soft and smooth 100%. The skin is hydrated, comfortable 97%.
Contains 21 essential amino acids extracted from Pale Iris stem cells
Works on the source of aging deep within skin cells
Restores energy and function to skin cells