Set of 2 Chinese Blue Wisteria Bonsai Seed Kit- Gift - Complete Kit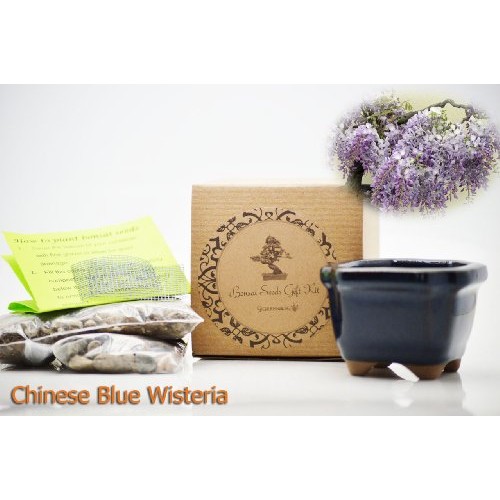 Set of 2 Chinese Blue Wisteria Bonsai Seed Kit- Gift - Complete Kit
Good Gift ideal for everyone want to watch their own bonsai grow from seeds. Good education and learning experience. The Chinese wisteria is a shade-tolerant vine, but it blooms best when grown in the sun. It prefers a deep, rich loam, has a moderate growth rate and is very easy to grow. The vine is easily pruned to keep it contained. The violet blue flowers, borne in drooping 8-12" racemes, are produced in late spring or early summer. It will cover a large trellis or arbor very quickly and is beautiful as a focal point to an entrance or porch. Hardy in zone 4-9
Does not deliver on Saturday, Sunday or Monday.
Complete Bonsai Seed Kit with everything you need to grow Chinese Blue Wisteria Bonsai from seed
Style and color of ceramic container may vary, Ceramic Vase measures 2.75"L x 2.75"W x 2"H
Kit includes enough seeds to germinate several starter plants
Seed kit includes Chinese Blue Wisteria Bonsai Seeds, Ceramic Vase,Bonsai Potting Mix, Pebbles, and Instruction Guide. IT WILL ARRIVE IN 2 SET.